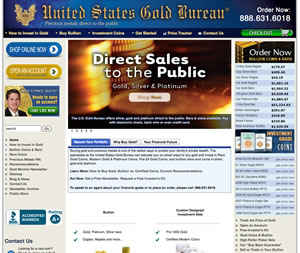 Online gold dealers have become more prevalent thanks to the skyrocketing price of gold and the flurry of interest from the general public. One of the companies that offers precious metal investments online is the United States Gold Bureau.
Services Offered
The company offers different products for sale. Most notably they provide gold coins, bullion, Silver American Eagles, rare coins and precious metals IRA's. Their current staff has over 100 years of combined knowledge about the precious metals trading market.
The company allows basically anyone to purchase from them. Their minimum order amount is only $50 and they accept precious metal items as trade ins.
In order to keep costs low the company does not charge a commission. They do have costs such as shipping, insurance and handling that is passed on to the customer at the point of sale.
Prices are confirmed at the moment of transaction. This prevents people from losing a sale due to fluctuations in the market place.
How To Information
In order to help their customers become more knowledgeable about buying and selling gold the company has lots of good information on their website. Different sections covers the advantages of investing in gold, the difference between certified coins and bullion and a grading scale for old coins. All of this information is free to customers and the general public.
In addition to the informational articles on the website www.USGoldBureau.com offers a free newsletter, Gold Monitor. This newsletter is filled with information on how to become a successful gold investor, strategies for the near future and longer term and a whole host of other information.
Precious Metals IRA
The US Gold Bureau has also partnered with Self Directed IRA Services Inc to provide their customers with a simple step by step IRA. The precious metal IRA was changed in 1997 to allow people to invest in gold and silver bullions through their IRA plan. This has provided a wonderful opportunity to further diversify retirement holdings for a number of people.
News items
In addition to the newsletter www.USGoldBureau.com provides tracking information on their site so customers can see the current price of gold, silver and other items. In addition they provide links to recent news articles pertaining to precious metals.
Customer Ranking
The www.USGoldBureau.com company is a part of the Better Business Bureau of the United States since March of 2009. The company has enjoyed an A+ rating for its excellent service and commitment to its customers. The rating and link to their profile is listed prominently on the website so that visitors may review the information at will.
Guarantee
www.USGoldBureau.com is committed to the satisfaction of its customers. To prove this point with action instead of words the company offers a buy back guarantee. The company promises to buy back any coin or bullion at the current bid price. There is no time limit on their guarantee and no restrictions. This is proof that the company is determined to sell only quality products and that the customer's satisfaction is their top priority.