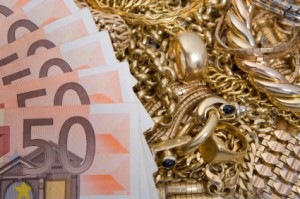 Find Top Rated Gold Buyers
It does not matter what shape the economy is in, there is always one thing people can count on; some unscrupulous dealings! Individuals who are going to use any dishonest means to make some fast money.
Thanks to the current financial climate, gold prices are soaring. Many investors are purchasing all types of gold as a means of investing against future inflation. This has also led to more companies and websites offering to pay "top dollar" for any type of gold item. But there are a few things to consider before agreeing to this type of transaction.
Beware of High Dollar Claims
Any broker that offers to purchase your unwanted scrap gold items cannot afford to pay you the full market price. Their job is to buy the goods from you and make a profit. So if anyone offers to buy your goods at full market price there is likely a problem with the transaction.
Mailing off Goods
Some companies have started advertising that they will send you a package that can be used to ship your items to the appraiser. The shipping is free and you get an estimate of your jewellery's worth in a few days from a certified appraiser. But there is a potential problem with this method.
Choose a Reputable Scrap Gold Buyer
If you use the shipping package provided by the gold broker, how do you prove it was mailed?  If the broker decides to offer you an amount much lower than your expectations. Watch out for any time limits when you must accept or reject their offer, how do you get your merchandise back?  If this becomes a court case, how can you legitimately prove to a court that you mailed your items to this broker. Or that the broker received them in good condition. So make sure you choose a reputable scrap gold buyer and there is enough insurance to cover any loss or damage in transit.
Do your homework
If you find a broker or dealer that gives you a fair price for your items, do some checking on them first.  Try and find any customer reviews, talk to friends and neighbours to see if anyone has done business with the company.  Call the local council to see if the company is in good standing with the local officials.
Determine how long the company has been in business and ask for testimonials and referrals of previous clients.  Taking the time to find out a little bit of information is the best way to fend off any illegitimate transactions.
Trustworthy Brokers
This is not to say that every company offering to buy gold items is a sham artist. On the contrary, there are reputable brokers who have built a successful business by treating their customers fairly. In addition to paying an honest price for gold items. These companies should be revered and set apart from the charlatans that make a mockery of the industry and develop a bad reputation for so many others.